Learn to Earn at Home by Internet Marketing from the Internet Business Tool Center,
The Internet Business Tool Center is my main Internet Marketing Site.
Two Ways to Make Money on the Internet
There are two major methods of making money on the Internet through Marketing.
One is to market your own products.
The other is to market other people's products referred to as Affiliate Marketing.
Marketing your own products often starts with a storefront business who goes online.
I have some friends who sold doll parts for years from their store. Then one day they decided to try the Internet. They set up a website and started selling. Their online business quickly developed and their sales increased dramatically.
If you are in this situation where you have a product or products and you want to sell them on line, you might investigate SiteSell.
The reason is that SiteSell is a cookbook for someone who does not want to have to learn HTML and site setup but wants it done for them.
It is not the way I like to go, but for some in a hurry to get and existing business online, SiteSell is one way to go. It isn't cheap but it is fast and effective. You will get your site up and traffic to your site as you follow the program.
IF time is more important than money, then maybe SiteSell is how you should go.
Marketing other peoples products seems simple and like a fast way to earn money. Actually it takes some training.
It is easy to find products to sell. ClickBank. Commission Junction and other affiliate networks have them by the thousands.
Selling them is another matter. You need to dig deep to find a marketing niche where and find needed and desired products to promote on your niche website.
So when you dig for products by using DMOZ or some other such directory, look for entries that include product names, find a domain that allows you to use the name of the product in the domain name based on your keyword research, set up a website based on your best one or two keywords, and drive traffic to the site by PPC to see if the site converts, then use free marketing methods like SEO and article marketing to drive  traffic to the site. Like I say, it takes some training.
You basically need a website or a number of mini-sites and you need to drive traffic to the sites by optimizing the sites (SEO) with good content relevant to keyword searches on the Internet, writing articles, by linking, or by pay-per-click or other forms of advertising.
Would you like our FREE Internet Marketing Course? Just CLICK HERE!
Drop Shipping and Drop Shipping Site Ratings
You can have products drop-shipped.
I have sold many products this way as a dealer.  The process is simply driving people to your site, taking the orders through PayPal, and then faxing the order to the factory, informing customers continually the status of the order.
The orders are taken by me and then serviced by the vendors.
Doba (Ranking 3 of 3)
Doba is ranked Number 3 (last) but is listed first because I was a member using this program.
You must be very careful in selecting a drop ship directory company to tell you where to find products. I took the free trial at Doba. (Note: I joined for 15 months on the second day of the trial. By paying for one full year–and they gave me an extra 3 months, I cut the cost to only $20/month.)
Note: Doba will not refund your money. I tried. They convinced me to give it a try. However, there are many complaints against Doba on this issue. Another complaint is that they are not giving true wholesale prices.
When I joined, the stock looked limited and the prices looked high to me. For example, I like to sell cameras and Doba had none, just accessories. They explained that certain item are just too competitive so they do not carry them. Actually, they have many thousands of products you can sell.
(Note: I studied the prices for a number of items before I put them up on eBay, which Doba does for you. The prices were fine. I set the Ebay starting price at 20% over the wholesale price but Doba said to start at the wholesale price. Finally, I was told by a marketer to forget Ebay and to just put the products on my site.
I decided to do that. I put up a number of products on a gift site which I uploaded on March 26, 2011. However, I did not have the needed traffic campaign on this site so no sales.
Doba has good support and they will help you get started. They guarantee the lowest price but bulk buyers and discounters can beat you out of the market. You must study hard and learn the ropes of marketing.
As I said, eBay is one place to sell but that is not always the easiest place to sell your products. I suggest that you put lots of products on a site and then list a few on eBay just to get attention to your email address which should contain your domain name.
My son does this all the time but he also sells a lot of stuff on eBay. My site is a gift site so it is very broad. I now use CJ products there.
You might consider restricting yourself a bit to selling one particular item (for example). I intend to do this. That is I will have a number of product centered mini sites but they all will point to my main site.
Doba has a website developer who for a fee plus a monthly charge build and maintain your site. I did not use this service. I am not renewing and have canceled my membership.
I got a call from the developer but he was too pushy for me, trying to get me to stay and let them work my site. He would give me no space so I told him I would no longer deal with Doba. I'm such an old grouch.
Anyway, I do not suggest Doba. I guess there are those who are successful there. I often hear complaints.
Worldwide Brands (Ranking 2 of 3)
Worldwide Brands is a more advanced option for drop shippers with a larger catalog and perhaps better pricing. Also, the training is extensive. The cost of membership is higher than Doba. But it is the Best Site not acting as a middleman but putting you directly in contact with suppliers. More work than using the Doba catalog perhaps, but more profitable.
Note that I suggest you deal with the manufacturers or distributors of products them selves, not sites that charge you for doing the work.
One review said all you get is a catalog and a too -high cost. I would study the reviews carefully.
I will say again, get your own suppliers if you can. I sold on two sites for years, thousands of dollars in book sales and flagpole sales. I no longer do it because of profit margins and Google problems but I still own the sites. The second now points to Amazon products.
This is the best way to go if you have the time to find your own drop shipping manufacturers or wholesale distributors. But be careful. I say, stay away from the Internet to do this. Go to the Thomas Registry or find your own manufacturers locally. There are just too many scams on the Internet. They will rob you blind. Take a look at the video to learn more about Worldwide Brands, the best option on the Internet.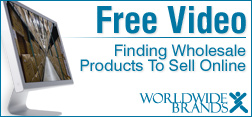 SaleHoo (Ranking 1 of 3)
SaleHoo is for those getting started putting sellers in direct contact with drop shippers as does WorldWide Brands but on a smaller scale. They both come highly recommended by my colleagues that deal with them. If you want to deal directly with drop shippers without a middleman such as with Doba and you don't want to pay the membership fees at WorldWide Brands, then I would start with SaleHoo.
John
880 total views, 1 views today
by